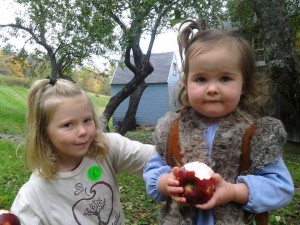 The Upper Valley Apple Corps is a group of people that are cooperating to purchase, host, plant, and care for food bearing trees in our neighborhoods. The produce will be free for the picking by everyone. Our  goal is to find and organize all the resources needed to plant and care for 150 trees by summer of 2015. Last year we met our 2013 goal of planting 50 apple, peach and pear trees in the Upper Valley. This year our focus is on nut trees. Why? Because nut species provide nutrient density which increases our local food resilience. As a wise sage said, "The best time to plant a nut tree is twenty years ago and the second best is now!" We are kicking off the season with a regional planting day on May 17th, 2014. Join us for a festival at the which will include workshops, food and tree planting.
When you are ready to sign up, please use our on-line participation agreement form or print this paper version, which also includes a cover letter explaining the project, and mail it to us.
Brought to you by your friends from:

See our full list of sponsors.